Travel Guide and History of Ado Awaye Suspended Lake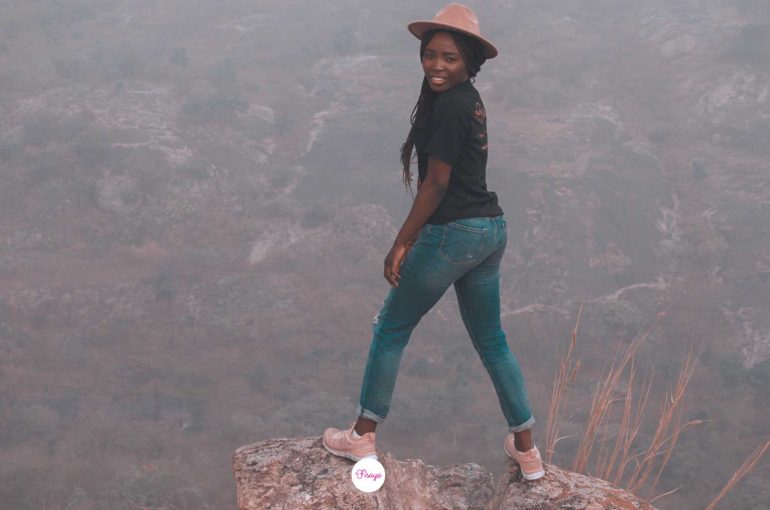 Are we almost there?" this was the question I asked Bolaji- another explorer that came with me on this journey.
After 6 hours of being on the road journeying through Lagos to Ibadan, at this moment, we were at an intersection between Ibadan and Oyo State.
Travel Guide to Ado Awaye
We journeyed on some roads that were smooth, while we kept entering pot holes on others, but in all it was a long a** drive!
Ibadan is a city popularly known for the brown roofs, this city gets the award (given by TheFisayo) as one of the oldest cities in West Africa which came into existence in 1829.
Back in 2018, on a beautiful afternoon in Lagos Nigeria, I was going through my Whatsapp stories as I usually do and I saw Ado Awaye on a friend's story.
It looked really fascinating but I never gave it a thought to visit.
Some months after I heard that this same mountain had a suspended lake on top of it – the only one of two in the world!
I was like yo! People need to hear of this.
Our country is really blessed with a lot of natural resources and eco-tourism, enough to make wealth. So here we go!
We (myself, Isaac –cinematographer & Bolaji) got to Ado Awaye around 6pm after leaving Lagos by 9am.
Apart from my journey to Bayelsa and the regular traffic in Lagos that makes a 1hour trip turn to 6 hours, this was the longest road trip I had ever been on.
 I have to admit that I was really scared on my way back home being that we left the destination by 7pm ish.
I would leave you to guess the time I got back home in Lagos (I took a risky decision to get back home to Lagos the same day).
Upon arrival, we were immediately greeted by the bleats of the goats, and the fresh air that swept our faces when we got down from the car.
When the tour guide told us we were about to go on a 369+ steps climb I thought it was beans (i.e I did not think it would be that serious).
It was until I took my 20th step that that I realized I was not physically fit.
I kept dragging the team back by my pace but we took stops to take all the amazing view in, also to take pictures for the gram.
The Mountain:
The mountain Ado Awaye is named after the community located in Iseyin, Oyo Town, Oyo State.
On it is the Suspended lake named Iyake lake, this was where the some of the locals used to drink from, bath in and cook from back in the time of war when some of locals had to look for shelter.
When on the mountain, you would notice some part of the mountain had been chopped into because that was the only way to cook during the time of war.
Being on top of the mountain was blissful, soothing and beautiful! I was in awe of the sight, I loved how the fog made everything looked even more beautiful and mysterious.
After taking enough pictures and videos, we began another 6 hour journey back home to Lagos.
The Future:
I did not have any conversation about the future of the destination with the commissioner of tourism in Oyo state as I did in Ogun State (Click here to read).
However, the destination already sells itself, I mean apart from the beautiful view, Ado Awaye also has a SUSPENEDED LAKE, one of the only two recognized in the world (I hope you read that well).
What it needs more of is promotion and some other side attractions to keep tourists fulfilled and engaged after a very long ride and climb.
Oh, good roads and a good navigation system would make a whole lot of difference.
Fun facts:
There is an amazing elephant looking tree on the mountain but we couldn't get to see it in time because it was way on top of the mountain and we were out of time.
Things to note:
Time to go: if you are leaving from Lagos, leave as early as 7am and pass through Abeokuta – it is a shorter route.

Alternatively, find a place in Ibadan or Abeokuta where you can sleepover if you do not want to travel at night.


Season to go: Being that we are in the tropical region, there is no extreme weather stopping you from climbing the mountain, just make sure you check weather forecast to be sure it is not going to rain the day you decide to go hiking on the mountain, unless off course you like hiking in rain.


Weird Animals: The tour guide told us that there are usually snakes and the likes on the mountain, non that I saw, but I just think you should know about this before you go.


Travelling cost: We had to buy about N7k+ ($19+) fuel for the car going and coming.

I advice you get a full tank before embarking on your journey if you want to drive yourself to the place because getting a "good" petrol station on our journey was difficult.

We hardly saw any and we almost ran out of fuel).

–Food is cheap.

If you want to live on gala/sausage and water/soft drinks just budget NGN 500 for the whole trip, but NGN1000 would be safer.

However, you know Oyo State is the best place to get Amala, so you can work with the same budget and get yourself a good meal.

– Tour fees: This varies with the kind of group that visits, right now, there is only one tour guide that takes people through the mountain, and he charges between N500 – N2000 ($1.3 – $5.5), depending on whether or not you are a child.
I will be recording my usual #Travelanswers video to answer any question you might have about this article/the destination.

Please leave your comments or any questions you might have in the comment box and CLICK HERE to watch the previous episode.
Follow me on Instagram @TheFisayo
CLICK HERE for more videos on Nigerian tourism.
In conclusion, if you are in search of Ado Awaye Tours, contact  travel@travcp.com or CLICK HERE .