How to travel Uganda on a Budget + Visa Requirements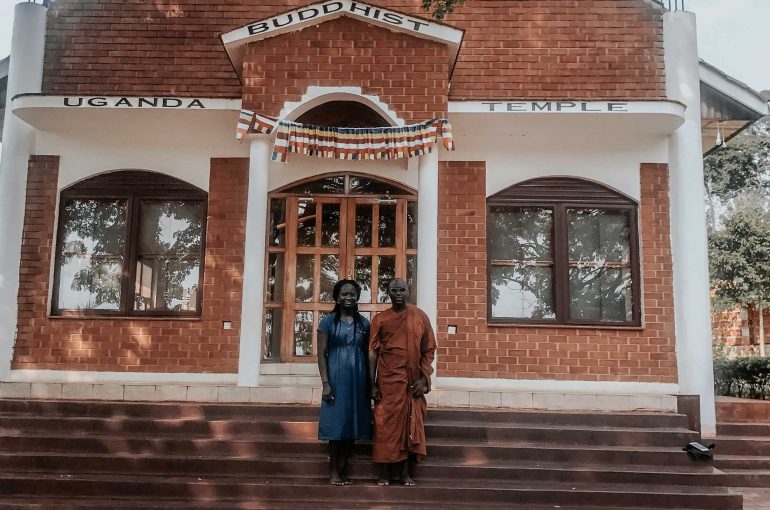 [dropcap]H[/dropcap]ave you ever wondered what Uganda is like for the locals living there as opposed to just visiting? Well, I am happy to bring to you Pelumi's experience A.K.A. Black Kinstugi who visited the country and lived like a local with some family friends, enjoy!
Places To Visit:

The ferry leaves Nakiwongo Entebbe at 2pm, you need to go earlier so that you are sure of a ticket. You can buy food and drink on board. The journey itself is so memorable with a 3 hours ferry ride which is absolute breath taken view, I am yet to accept that lake Victoria is only a lake and not an ocean. It's a remote Island that is designed for the perfect get away from the city vibes. The locals are very friendly and the kids are just cute. It is also a popular destination for honeymooners. 
When you think of Buddhism, it is mostly associated with the Asian culture so I was pretty surprised to have a Buddha temple right next to my friend's family house ran by her uncle. I was able to experience the act of meditation that led to state of tranquillity. Most importantly I applaud the way Bhikkhu gave back to the community by empowering local women with new skill set that would provide them with a form of income e.g beading.  Bhikkhu himself is #Travelgoals, having visit a variation of religious summit around the globe.
At the very point I stood right at the centre of the earth. One feet in the north hemisphere and the other in the south. It was such an experience of a lifetime to stand at both side of the world. I can now say I have been to two places at once.
I loved the market visit, it was a chance to speak to the locals about life in Uganda. I was able to try some local delicacy such as grasshopper, verdict interesting taste a cross between fish and cheese.
I am  honestly a sucker for sunsets and Uganda's sunset  was special on so many levels with vibrant colours.  
The list goes on, it was truly an enjoyable experience. If you are big on wildlife then I would definitely recommend Chimpanzee Trekking Safari, due to timing I could not do it but I have heard a lot of goof review and a once in a lifetime experience.
Visa requirement –
I needed a visa to enter Uganda, my application was made online for an 'e-visa'. You can find full details of how to apply on the website of the Ugandan High Commission HERE.  My visa was processed within 10 days due to a deferral as I was required to provide more information for the host family I was going to visit. It is important to process sufficient time to apply and make sure when applying that the start date and validity covers the period you wish to travel.

Alternatively you can also apply for an East African Tourist Visa. This is valid for 90 days and allows multiple entry into Kenya, Rwanda and Uganda (CLICK HERE to read more). You can apply for this visa on the 'e-visa' website mentioned previously.

One thing I did notice on arrival was that the people who did visa on arrival, did not have to wait so long at the airport and the processing time much faster maybe it was just a fluke but still if you are a little impatient to start your holiday you might want to gamble it. However, if you are like me that like to travel with a little less things to worry about, then I would advise you to go the route I went which was to make application prior to the trip.

You have got a varied selection to choose from: Types and Cost.
Single-entry e-Visa: US$50;
East African tourist e-Visa: US$100;
Multiple-entry e-Visa: US$100 (six to 12 months);
US$150 (12 to 24 months), US$200 (24 to 36 months).
I went for the first option as I did not have any more African country in the foreseeable future.

Document required for Ugandan visa and cost
Online Uganda application visa form

A passport photo to upload

Letter of invitation

Proof of travel arrangement

Yellow fever vaccination – mine did not get checked but you don't want o risk it.
How to find a cheap accommodation in Uganda:
I can only speak from personal experience, I fortunately did not have to worry about accommodation because I was visiting with a friend who had family in Entebbe so accommodation was covered. But to be honest I have always advocated that one should always take opportunity of visiting family and friends around the world, by doing this accommodation usually is catered for.
However, I did do a quick google search via @booking.com and you can find budget hotel for two adult for £56 for a week stay, while for luxury hotels and resort it would cost £1500, it really depends on what budget you are working with.

Money /currency acceptability:
The main currency spent is Uganda Shillings and sometimes U.S dollars are accepted in some shops and hotels, best to play it safe and change your money to the local currency before travelling and maybe some emergency funds in dollars.

Vaccinations needed:
WHO recommend the following vaccinations for Uganda: hepatitis A, hepatitis B, typhoid, cholera, yellow fever, rabies, meningitis, polio, measles, mumps and rubella (MMR), Tdap (tetanus, diphtheria and pertussis), chickenpox, shingles, pneumonia and influenza. However, the most important is the yellow fever vaccine and you may need to show a copy of your yellow fever certificate to an immigration officer before entry.

Best time to go to Uganda:
I would recommend visiting Uganda during the Dry seasons from June to August and December to February, especially if your visit is mainly focused on wild life. I however visited in mid-November and the weather was perfect, anything to escape the pre-winter London weather.


Best way to travel within the country:
Having a host family meant that transport was readily available. In moments that I wanted to do a quick errand, I found biking it to be easiest choice.


How much does it cost to travel to Uganda: Cost breakdown:

Flight –  £326 ( London to Uganda, with stopover in Kenya for a few hours )
Accommodation  – free in my case
Visa  – $50
Transportation within the country  – free 
so the whole trip cost less than £500 with spending money.
Other things to note:
Food – Uganda is  heavy on carbohydrate, as a Nigerian I found myself longing for stew to go with the carb been served. However it was interesting to see different delicacy available.
Do enjoy your stay and let me know how it goes.
Click HERE  to check out Pelumi's site
Follow her on Instagram: @Black_Kintsugi
After reading Pelumi's story, I have decided I must have a family member in ever country I visit, if I don't I must create one, hahaha!
What did you think of her travel to Uganda, and I hope you found this helpful?
Follow me on Twitter  @TheFisayo
Follow me on Instagram @TheFisayo
CLICK HERE for more videos on Nigerian tourism.