Where to stay in Ghana Accra: Hotels, Resorts, Lodge and Apartments.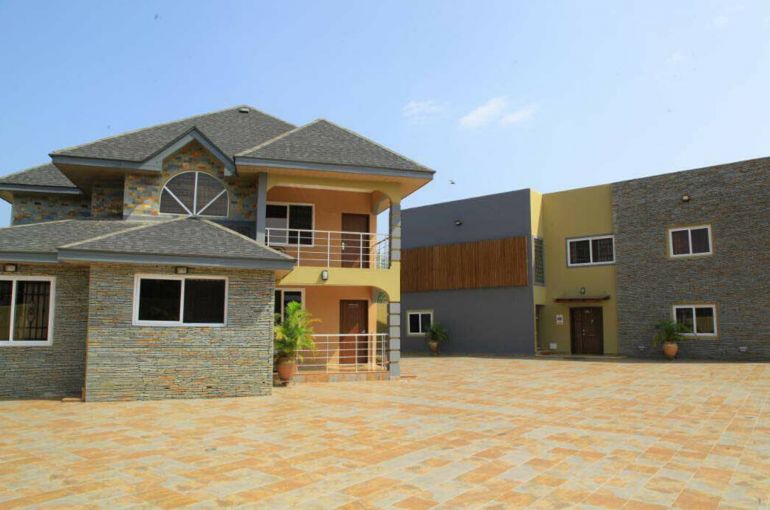 Just like you, it was my first time in Ghana (or maybe not your first time 🙂 ). I came in to Ghana for a UNWTO conference and BAYS LODGE AND APARTMENTS was the first among-st many Ghana hotels recommended to me by a friend and that was where I went.
I can not speak for other hotels in Ghana, however, here's what you should be expecting to receive from the lodge if you do decide to visit;
ROOM:

The lodge has an 8 bedroom luxury lodge. The room I stayed in was super spacious and I had access to a king size bed capable to take 3 people (true story), a television I never turned on, a fridge, a big couch and 5 star wardrobes for clothes (lol).
COMPLIMENTARY SERVICES:
Do not be confused when you see the phrase "we", this is because I was at the apartment with some friends. We were given complimentary breakfast (and we made special request on some days), complimentary toiletries, and free Wi-fi!
Transportation & Distance:
The apartment is about 20 minutes drive from the Kotoka International Airport. Buses, Bikes, Cabs, what ever your preference is, you can easily locate one close to the apartment. If you need any help getting a cab, the receptionist would be a great help to you as she was to us (she has plugs, lol).
SERVICE:
All the staff we met were all friendly, courteous and professional. Every time we made request to the receptionist, cook, or any of the other staff, we were answered with the appropriate help needed.
Receptionist: Gertrude Adjonyor
ENVIRONMENT:
Every part of the apartment was neat and well maintained.
BATHROOM:
One distinct item in the bathroom is the washing cabinet. It looked mordern and well maintained. The bathroom was equipped with two glass cups, two bottles of water, soap, towels, shower area and a toilet area.
POOL:
Fam, is is just me, or does this also happen to you- such that overtime you go on a holiday (so to say), you pack your swimming kit with the intention to swim but you don't. Well, that is what happened to me again. Nevertheless, I took some pictures at the pool side and my Instagram stories never heard the last of it. The outdoor pool has an arrow shape.
PRICING:
Standard Single – 330 Cedes / $58.5
Standard Double – 385 Cedes / $68
Standard Deluxe – 436 Cedes / $77
Deluxe Pool Side view – 570 Cedes / $101
Executive suite – 821 Cedes / $145
Apartment – 422 Cedes / $75
OTHER THINGS TO NOTE:
Book as early as possible because the hotel gets fully booked on time, especially in festive seasons
CLICK HERE to book.