NACHOS GONE WILD! – ISSA GIVEAWAY!!!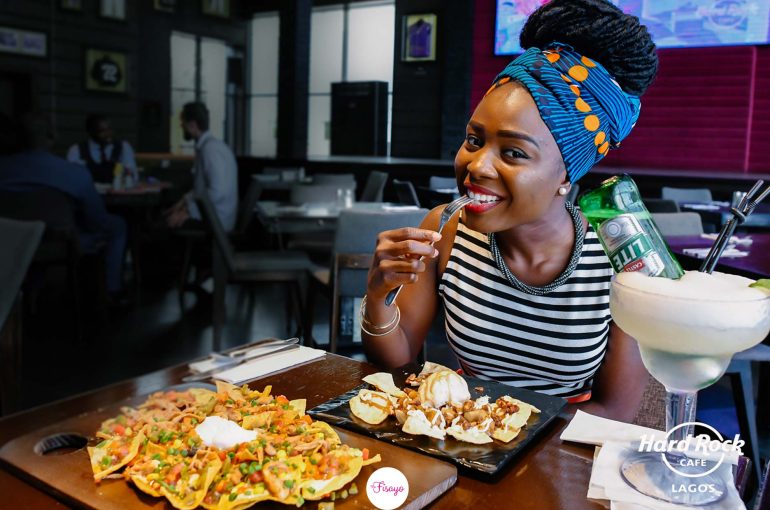 Hard Rock Café (a restaurant in Lagos) has a LIMITED EDITION MENU called "Nachos Gone Wild" which incorporates some of Nigeria's favorite dishes in a nacho style, such as pizzachos, shawarma nachos and suyalicious nachos.
I went over to the Café to try the Tex Mex Nachos with an Apple & walnut pie nacho for dessert, with a Bulldog margarita, and I thought a giveaway would be perfect for you to have a taste of the limited edition Nachos. A poll was raised on my Instagram and Twitter accounts – @Thefisayo – to find out if you guys would love the idea also, and I'm happy you guys are ready for it!
]Here are the giveaway guidelines:
Follow @TheFisayo & @TheFisayoBrand on Instagram
Follow @HrcLagos on Instagram
Post the giveaway image on your Instagram story and tag @TheFisayo
Tag 5 friends in the comment box on Instagram (@TheFisayo) and make sure they like your comment.
Head over to Instagram now and let this begin! The 2 winners will be chosen on Monday the 30th of April 2018! The individuals with the most engagements wins the giveaway! I am excited about this, and I'm really eager to find out who wins this! When next I go there, I would definitely try the suyalicious nachos because it sounds interesting
Meanwhile….
THEFISAYO BRAND was NOMINATED by PYNE AWARDS as the TOURISM BLOG OF THE YEAR!!!! I would talk more about it in my next post. There would be an extra point for whoever votes "TheFisayo Brand" and sends me a confirmation via DM on Instagram (winks), CLICK HERE TO VOTE!
Gracias!
Follow me on Twitter  @TheFisayo
Follow me on Instagram @TheFisayo
Photo Credit: 3188 Studios
NACHOS GONE WILD!