BUSINESS ETHICS 101; HOW TO INFLUENCE PEOPLE BY CHRIS WIDENER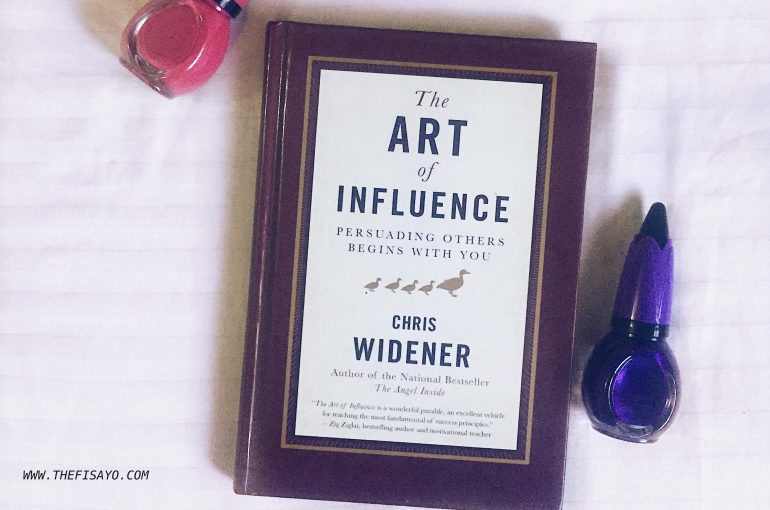 [dropcap]M[/dropcap]ost books I read are gifts I receive from people, thankfully, and as always I review them so you can learn from them and so I can create an urge for you to get them, especially when I find the book very useful. Today, I'm reviewing the book titled "The Art of Influence" by Chris Widener.
We all want to be influencers in one area or the other, but only a few learn the art of influence, in Chris's book, he says "there is a big difference between influence and persuasion. Persuasion is about convincing people of something. Persuasion is about what you do to other people. It is about techniques. How to win an argument, how to make a presentation, that sort of stuff.
Influence on the other hand, is about you. Influence is your ability to change another person's thoughts, beliefs or actions. In order to be successful in business you have to be able to influence people. You can't be a good sales person, and you certainly can't be a good leader if you do not know how to influence."
Here is why…
"People do not do business with numbers or cooperation. They do business with people. Influence is all about who you become as you progress through life. The kind of person you are is what determines your influence, which, in turn, is what determines your success."
How do you manage perception?
His book says "the best way to manage perception is for it (what you think you are) to be real in the first place. So you have to become the type of person that others want to follow. You have to become the type of person that others want to buy from."
Guess what? It was mentioned in his book that the buyers and the followers are the decision makers, it is the decision of the follower to follow you that makes you a leader. Influence is a gift that they give you, they let you influence them. The only decision you will make is what kind of person you will be. It is totally about your personal transformation into a great leader, says Chris.
Here are a few keynotes that should sell the whole idea to you;
Influence is about character – Ultimately, leadership, sales, and business are about trust. A follower must trust the leader. A buyer must trust the seller. No character, no trust.
If you want to attract people of vision you have to be a person of vision. If you want to attract people who are passionate, you have to be passionate. If you want to attract people who are fair and honest and positive, you have to be the same.
True influencers put other people at ease and let them feel that they are the ones in control (You need to read the book for more clarity).
Golden rule of influence is to live a life of undivided integrity. Integrity is all you have. It is the foundation of everything else you do. Without it, you have lost in business.
Make it your goal to have others consider you as a person of your word.
Positive words produce positive results. So take control of your mind and thoughts and the words you say. Speak life into those that follow you.
Consider people's interest more important than your own.
People are attracted to excellence… e.g. Dubai. (If you get what I mean. Read my DUBAI post for more)
You can gain influence by gaining money and gain even more by giving it away.
I cannot go over the whole book in just one blog post, so I strongly advice that you purchase the book, in fact I need to re-read the book, because I would admit that there are somethings I haven't been getting right. The best part of reading a book is "applying it" and seeing positive results.
Below are the other books I have reviewed on my blog before that you should read;
31 days of wisdom:  CLICK HERE
Woman, an asset to nations:  CLICK HERE
Oh by the way, I got a reply from the author about the review! I was super excited 🙂
"In order to be successful in business you have to be able to influence people"