THE INTERVIEW WITH THE FILM MAKER -AMA PSALMIST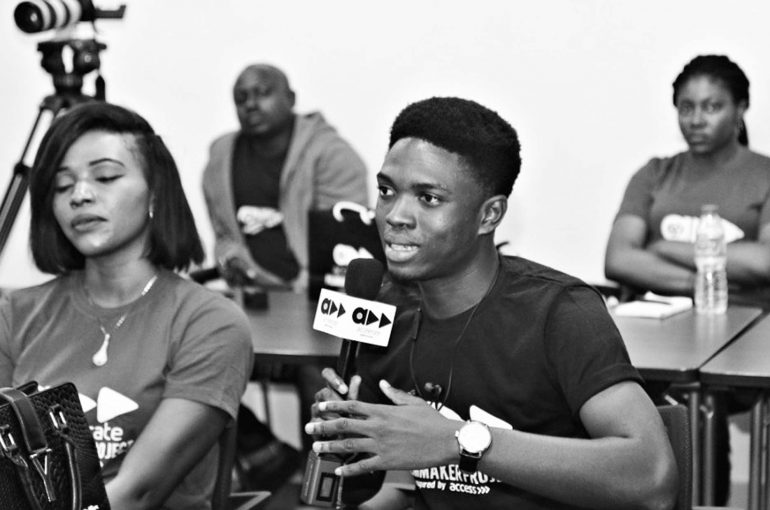 Fabulous people!  I released a new video on my YouTube channel, giving you quick and entertaining tips about the Nigeria Travel Week that starts today, PLEASE CLICK HERE TO WATCH & SUBSCRIBE.
Meanwhile, have you ever wondered who directs and writes the scripts to the new amazing Nigerian movies and series?   I present to you Micheal Akinrogunde, AKA (also known as) AMA Psamlist.
Micheal is a film maker- editor, director, and script writer. He just started his career in film making and he already has two new movies coming out soon, read and enjoy the interview I had with him!
Question: Please introduce yourself.
Answer: My name is Michael 'AMA Psalmist' Akinrogunde. I am a filmmaker, brand manager and recording artiste.
Question: Why the name " Ama Psalmist"?
Answer: AMA Psalmist comes from my name initials and my friends. So, AMA means Akinrogunde Michael Akinkunle, and Psalmist, my friends call me because I sing. There were a lot of Psalmists so I just added "AMA" to mine, it's not that deep.  I especially like Psalmist not just for singing, but because it also covers my writings and helps one of my brand scriptures being Psalm 45:1-
"My heart is inditing a good matter: I speak of the things which I have made touching the king: my tongue is the pen of a ready writer. (KJV)"
Question: Who do people say you are?
Answer: Well, I think "people" would be in the best position to answer that.
Question:            What motivates and inspires you?
Answer: About motivation, I truly believe a lot of the decisions we make are a product of influences. I think being a filmmaker gives a platform to have strong influences on the kinds of decisions people make, so knowing that motivates me to put in more work. I am inspired by some models that have changed and promoted strong narratives from telling stories, another strong inspiration is seeing people respond to what you create.
Question: What do you do & where do you work?
Answer: I make films. It's a really broad statement, as filming has a lot of elements to it, but my cores are Directing and Screenwriting. I also have strong interests in editing and sound design. I currently also work as a brand manager at Bodds IT Solutions.
Question: Who are your mentors?
In film, I realize I have more models than mentors. My mentors would be Mildred Okwo, Seyi Babatope, Judith Audu, Lala Akindoju and Niyi Akinmolayan. I have learnt a great deal from them. My models are quite a lot, but as long as I can learn from you, we're fine.
Question: Why film making?
Answer: Filmmaking is so beautiful; the real question should be "why not filmmaking?" Filmmaking gives you the opportunity to bring what you imagine to reality, that's amazing! Almost makes you feel like a god, and more so, it's one of the most collaborative professions in the world, so you get to work with loads of awesome people.
Question: How did you start?
Answer: I started filmmaking professionally in 2015. However, I have been involved in films (especially stage) since 2000-and-primary school. I started by reading a lot and being involved in a lot of drama groups as literally anything. I started out acting, then writing, then I learnt how to direct. It's a lifelong learning process, so I try to get around a lot of workshops, conversations and of course, film sets, it really helps to grow.
Question:            What is the best part of being a filmmaker?
Answer: The best part of being a filmmaker has to be the process! Working through a bare idea, to putting it on paper, to seeing it on screen or stage. It's a humbling process.
Question: Why Accelerate?
I didn't set out to get into "Accelerate" I set out to take the best learning opportunities and make the most of them. Accelerate had a great platform and God was faithful.
Question: How did I get it?
Answer:  Well, it was a tough selection process, out of over 600 entries across Nigeria, we did a themed one minute short on Love and Freedom and I made top 30, did a themed treatment on "Worst day of my life" to make top 15 and also get into the academy. Finally, went through over 40 hours of training and a pitch session to be part of the Top 5, to get sponsored to make a short film and screen at AFRIFF.
Question: What is the experience like?
The experience at the Accelerate Filmmaker Project was unforgettable! Every day was such an education! An education filled with theoretical, practical and life experiences. As each facilitator stepped into the class, it quickly turned from a dream come true to a determination to make them proud because of the raw passion poured into their session. I can never forget it!  For most of us in the academy, filming our shorts; being the leads on the projects were the first experiences of the kind and we all had different journeys. I'll like to think of mine as a confirmation and a chance to make all those who had poured into me proud. Accelerate TV was gracious to connect us with mentors that guided us through. I made my film under the guidance of the Legendary Mildred Okwo! I also had an amazing crew and cast who simply delivered excellence. It was surreal having to bring all that had been learnt to life, and I'm grateful we told a fantastic story.
Question: What is your new movie about?
Answer: I have two new movies yet to be released. One is titled Penance and the other, Gana Street League. They are both projects I am terribly excited about. Penance seeks to address stereotypes, it tells the story of a priest who also has something to confess at Penance. Gana Street League, such a beautiful story, takes us on a journey of a girl hawker who plays football and all the challenges she has to overcome to pursue her dreams of being a professional footballer.
Question: Tell me more about being a brand manager.
Answer: Generally, I work with the team to come up with and implement strategies to hit our set targets. They range from customer service, brand perception to making profits. Basically, I am in charge of how the public perceives the company.
Question: Describe your new movies in one word.
Answer: Brilliant.
Question: What is your encouragement to filmmakers and other creatives?
Answer: When I meet creatives, I just try to always remember to say, learn to convert your passion to income. We get carried away with our passion and don't realize it is indeed our own means of "survival", so take time to study you craft, your industry, be great at what you do and make some money while doing what you love.
Question: Any additions?
Answer: Additions – You, Fisayo, are doing an amazing job! I really believe in you and respect your consistency.
Social media accounts – @amapsalmist across all platforms.
That is all from Michael, thank you for the compliment Micheal. I hope you were inspired by his story. I really wished I could do a video interview with him, but he is a busy man.  He was recently on the cover of the Accelerate TV magazine with his team, check it out below;
Please support him and leave a comment stating what got you inspired from this interview, I will be looking forward to the release of his new movies.
Cheers! xx
"My advice to young film-makers is this: do not follow trend, start them! -Frank Capra"