COMEDY AND LAUGHTER FEST! GIVEAWAY TICKETS!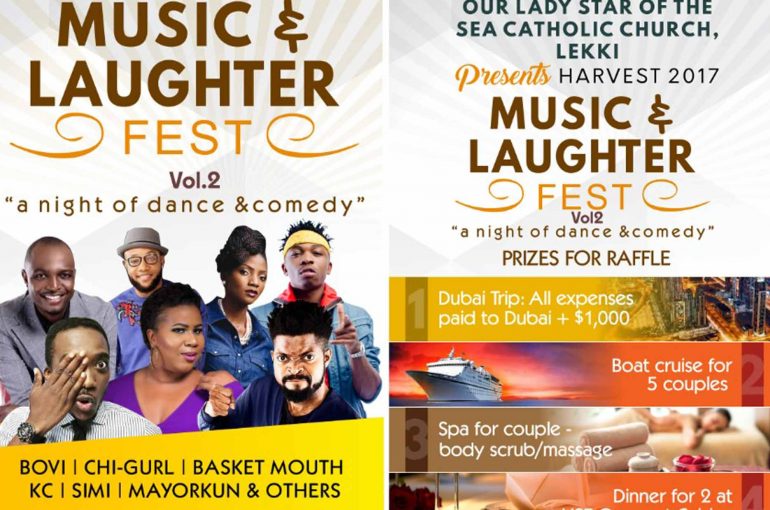 Happy New Month again! Welcome to the sister month of celebrations (my favourite time of the year!). I mentioned in my previous post (event near me this week) that I would be doing a giveaway this month, and this is it. Before I proceed, I also mentioned in my previous post that JUMAI BLACK FRIDAY would be starting soon. Well, it is starting in 7 days, CLICK HERE TO KNOW MORE.
ABOUT THE EVENT:
The music & laughter fest is presented by OLSS. It is going to be a night of dance and comedy with the host- Ik Osakioduwa, Nigerian comedians; Bovi, Chi-Gurl, Basket Mouth, and Nigerian musicians like KC, Simi, and Mayorkun will be presenting at the event. Other stars will make surprise appearances and presentations at the event, so their names will not be disclosed now.
This event only has two categories of tickets; one costs ₦25,000, the other costs ₦50,000. I will be giving away two ₦25,000 tickets to some persons, hopefully that person is you!
Date of the event: Saturday 11th November, 2017
Venue: The Eventistry Lekki, by This Present House Dome, Freedom Way, Lekki.
Time: 6:30 PM
Red Carpet: 5:00PM
MAIN PRICES:
Before I get into the giveaway information, you should know that getting a ticket to this event will qualify you for a raffle draw to win one of the following:
An all-expense paid trip to Dubai + $1000
Boat cruise for 5 couples
Spa for a couple
Dinner for two at HSE Gourmet Cuisine
Free membership at body pro gym (5 members)
Lastly, laundry services for 4 people worth ₦20,000 each from Midas Touch
As I earlier said, the winners of these fabulous prizes will be chosen at a live raffle draw. This is such a worthwhile investment! You would be getting so much with so little. And in case you were wondering, both the ₦25,000 and ₦50,000 tickets will qualify you for a raffle draw, so you are covered.
GIVEAWAY PRICE:
Again, I will be giving away TWO ₦25,000 dinner ticket to one person, and each ticket admits only one person. So, you can bring your best buddy or your sibling along as a date.
GIVEAWAY GUIDE:
The rules are easy, just three easy steps:
Subscribe to my blog by putting in your email in the box BELOW THIS PAGE and verify the mail sent to your account.
Subscribe to my YouTube channel (CLICK HERE TO DO SO or type www.youtube.com/thefisayo).
Lastly, follow @THEFISAYO on twitter, RE-TWEET my pinned tweet, and tag at least 5 friends on my PINNED tweet.
HOW WINNERS WILL BE CHOSEN:
Only 2 winners will be selected (a couple).
This would be done objectively and randomly, based on the number of engagements received by the person in particular.
GIVEAWAY CLOSE DATE:
For logistics purposes, the giveaway will end on Thursday 9th, November 2017.  I am likely to announce the winner on twitter (so tag as many people as you can on twitter), and I will get the ticket to the winner on Friday since the event is on Saturday- so please get your dinner gowns or suits ready.
HOW TO GET MORE TICKETS:
If you are not able to win the giveaway, contact me on any of the social media platforms to purchase a ticket;
Twitter: @TheFisayo
Facebook:@TheFisayo 
Instagram:@TheFisayo 
And, YES! You would off course be getting free 5 star FOOD treatment. 🙂
So, getting a ticket of any category qualifies you for a raffle draw that can possibly get you A TICKET TO DUBAI or a boat cruise in Lagos State and many more.
Before you win the Dubai Ticket, you should read my DUBAI GUIDE explaining fun places to visit from my experiences in Dubai, and prepare your mind on how best to use the $1,000 that you could win alongside.
"The best way to learn is from the experiences of others – Anonymous.
I will be doing other GIVEAWAYS subsequently till the Christmas season is over, so, it is best you subscribe to the blog so you can be the first person to know about them.
Remember, JUMAI BLACK FRIDAY is starting in 7days, CLICK HERE to WINDOW SHOP and find out the prices of your favourite items.
Which of the Main prices would you want to win?
"Every breath is a GIVEAWAY dance between you and the plants. – Susun Weed