6 Things To Do At Johnson Jakande Tinubu (JJT) Park! – My Review On The New park In Lagos!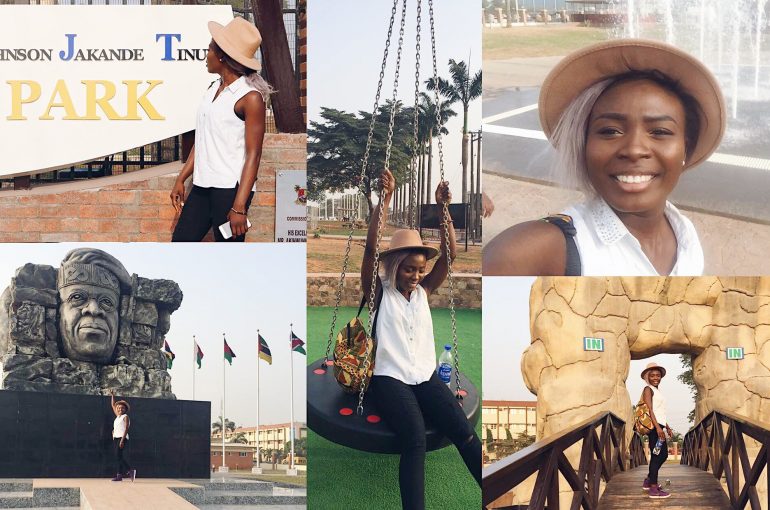 This new park gets me excited! I have officially started my tour for the year, and I started with the newly launched recreational park at Alausa, Ikeja Lagos named Johnson Jakande Tinubu Park (JJT Park).
It was launched by the present Governor of  Lagos State; Mr. Akinwunmi Ambode to honor the past Governors of Lagos State – Brigadier Mobolaji, Johnson Rtd, Alhaji Lateef Jakande, and Senator Bola Ahmed Tinubu.
I think the idea of the park makes a lot of sense, and it is very futuristic in terms of improving tourism in Lagos Nigeria, and like I said in my recent video on YouTube, I am PROUD OF LAGOS, & I am proud to be a Lagosian, CLICK HERE to watch the video.
Now straight to the review of the park, I would like to start with something interesting!
Travel Guide on JJT Part
Free Wifi:
We have free Wifi "that works", wow! This is something that JJT Park has in common with Ndubisi Park, which is right next to it. And the Wifi is named: Lagos Wifi. If you are not happy about this, I am! We are gradually improving in some areas in Nigeria, and I like to see such growth.
2. Entrance Fee:
It has a free entrance, and you do not have to pay anything to enter the park or to use any of the facilities, which I think is really good.
3. Location:
As mentioned above, the park is located in Alausa Ikeja, right next to Lagos State House of Assembly.
4. Parking Space:
I hate to break it to you, but there is no parking space in the park. Meaning you cannot drive your car into the park. I do not know if there are provisions being made for extra parking space for festive seasons when there is going to be crowd, but I had to park my car at Ndubisi park which is right opposite the park (well, kinda).
5. Space:
As mentioned by the Lagos State General Manager of Parks & Gardens Agency (LASPARK); Mrs. Bilikis Adebiyi-Abiola, the park occupies a total land area of approximately 21, 800sqm.
6. Recreational Area:
I will like to call this the "tourist attractions", which means these are the reasons why "I" would go there if I were you.
If I were you, I would;
Take a picture in front of the Statue that represents Lagos for Instagram! (Like I did) 🙂
Take a picture in front of Tinubu's face/statue.
Take a picture in front of the dry fountain
I would go there for a picnic.
Take my children or younger siblings to go play at this beautiful playground craved out for children.
I would make an Instagram story and send it to campaigns@thefisayo.com talking about your experience there and promoting travels in Nigeria like I did ( you will see it in my upcoming video on YouTube).  CLICK HERE to know more about the campaign.
7. Food Yard:
You will have a full view of the food court in the video review I will be releasing on YouTube soon, so stay tuned for that, although all they really had there when I visited was just drinks.
8. Time:
The park closes by 6:30 PM, and I was unable to confirm what time it opens.
9. Photography:
For the photographers and or bloggers like me, you need to know that you would need to get permission to use your professional camera to take pictures or hold photo-shoots there.
My overall assessment of the park is a 4.5 over 5, it is really big and beautiful for pictures, videos, pre-wedding shoots and whatnots. So I suggest you should visit the park if you are in Lagos or if you are passing by Lagos! Make sure you stay tuned for the video to see more of the park, and make sure to join my campaign called; "The Nigeria Experience" aimed at promoting travels in Nigeria.
In conclusion, let me know what you think of the park, in the comment section, and If you have visited the place do not hesitate to share your experience.
For more inquiries CLICK HERE to book 
Follow me on Twitter  @TheFisayo
Follow me on Instagram @TheFisayo
"Lagos- Africa's Model Megacity"